I like to make almost anything I can figure out and that I can squeeze in the time for. Most of it is in the form of woodworking because after working in the digital realm of software where my work exists in the form of ones and zeros stored in a computer, I love the idea of being able to physically hold in my hands something permanent that I created.  (Check out my favorite build so far, the backpack rack.)
I typically only post about woodworking and electronics projects, but my making journey isn't limited to those areas, especially this time of year.  With Fall fast approaching we have an abundance to tomatoes coming in from our garden.  I love growning all sorts of fruits and vegetables but over the years I have begun to limit our garden to things we can easily store (or turn into something we can store) for future months. I've also found that there is no point in growing an abundance of something if the kids won't eat it. Due to a recent construction project, I'm hoping to have more gardening space for next season, but this season our big producer is the the tomato plants. We have an abundance of tomatoes rolling in and with our oldest being quite the picky eater, I'm happy that I landed on a recipe for her favorite food that is both easy and meets her approval.  When she is not eating chicken nuggets she loves to enjoy spaghetti. I'm so glad I stumbled upn on what I call my easy "cheat" recipe for turning our abundance of tomatoes into something she enjoys.  
I call this my cheat recipe because the secret ingredient, along with 6 lbs of home grown tomatoes is a package of Mrs Wages Pasta Sauce Mix.  I know, I know, I'm cheating on this homemade spaghetti sauce, but until I have the time to grown all the ingredients I need to make it completely from scratch, I find this to be a good compromise. Plus, if I change the recipe at this point I run the risk of our picky eater not enjoying it. Once I have the space to grow everything, then we'll trying a small batch from scratch. 
I find Roma tomatoes to be the best for this as they are meatier with less liquid that needs to boils off which means less time to make. Since we don't always get 6 lbs right away, I usually freeze the smaller batches that come early in the season and end up making it with a combination of freshly picked and frozen tomatoes. By the time we get deep into tomato season though, I can easily do a full fresh batch with what we pick.  Any tomato type will do though, and I have even thrown in cherry tomatoes when I have an a lot.  If you don't have fresh tomatoes, then you can head over to your local grocery store and buy up the tomatoes while they are abundant and fresh to make some sauce to enjoy later.
The recipe on the back of the Wages package calls for you to peel and core those tomatoes before you put them in your pot to cook. I've done that before in the past, but it is way too much work.  Instead, I remove the stem and cut each tomato in half, as well as remove any bad spots.  I find that every once in awhile there is a bad spot in the middle of my tomato so this allows me to make sure the middles looks good. If the tomato has a little end rot I just cut that bad end off and use what is good. (Make sure to apply calcium to your plants to help prevent that end rot.)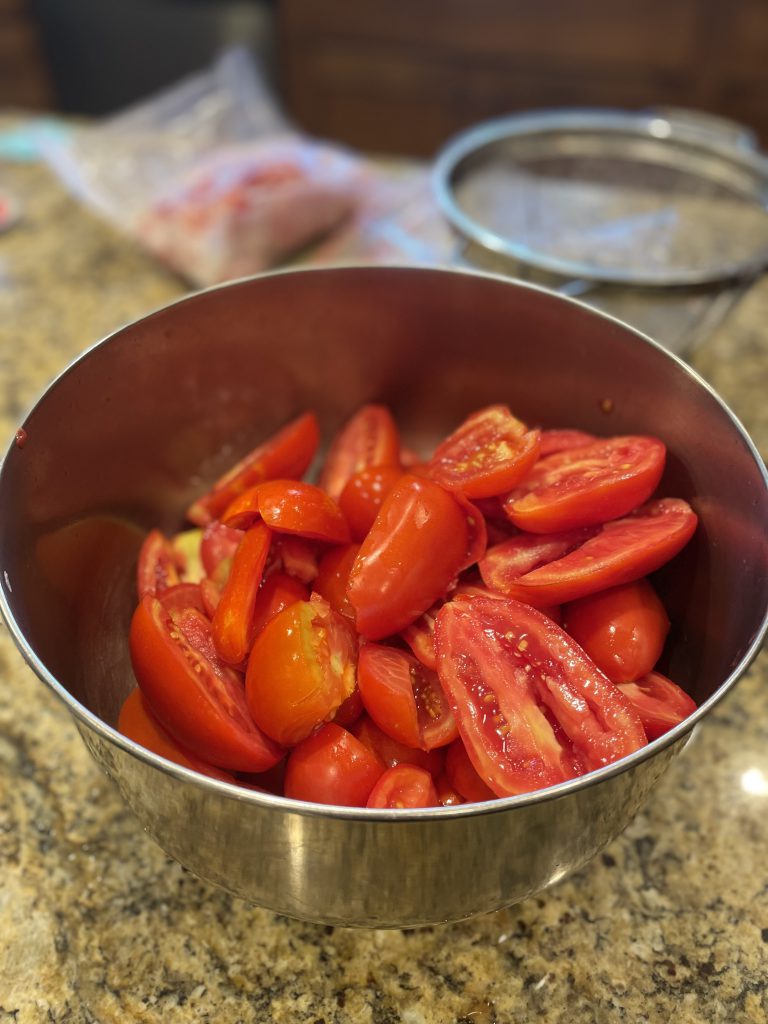 Once they are cut in half, then it's into the biggest pot I have with approximately six pounds of tomatoes (seeds, skins, and all), the package of seasoning, and the required 1/4 cup of sugar.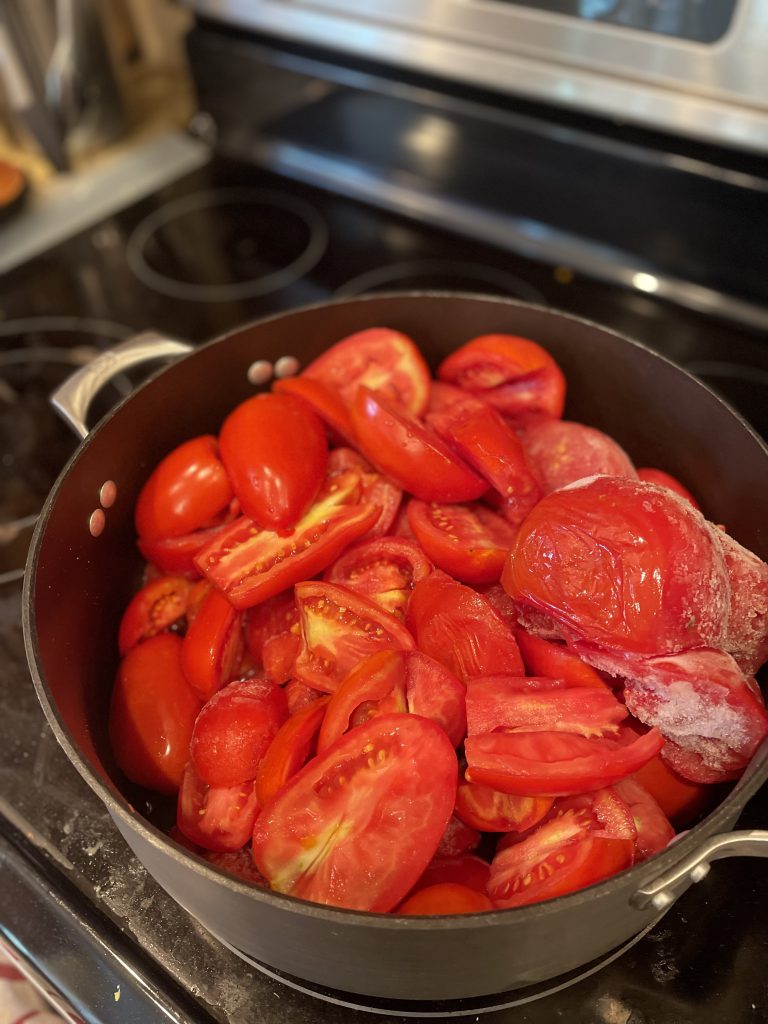 Next, it is just a matter of simmering it over a medium-high heat to get those tomatoes to break down and release their wonderful juices.  My whole family loves how the house will slowly start to smell wonderful as they simmer and the pot slowly turns from a pile of tomatoes to beautiful red liquid full of skins and seeds.  
I continue to simmer it until it gets to a thicker sauce consistency. This can take a lot of time and will depend on how juicy your tomatoes are. This is where using Roma tomatoes helps a lot. With less juice, they have less water to simmer off to get it nice and saucy.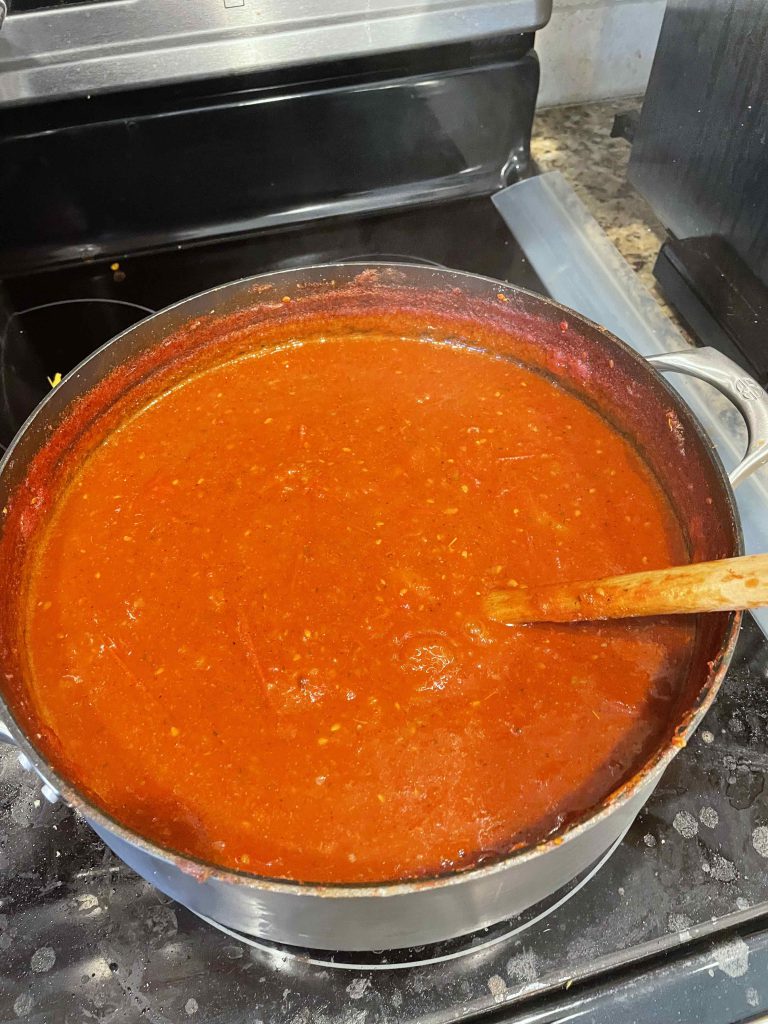 Once the sauce is simmered down to a consistency I like, it's time to take care of those seeds and skins.  This is where my trusty food mill comes in handy. (You can find the OXO one I use here. I find it works great for the amount I make, and isn't too bulky to store away.)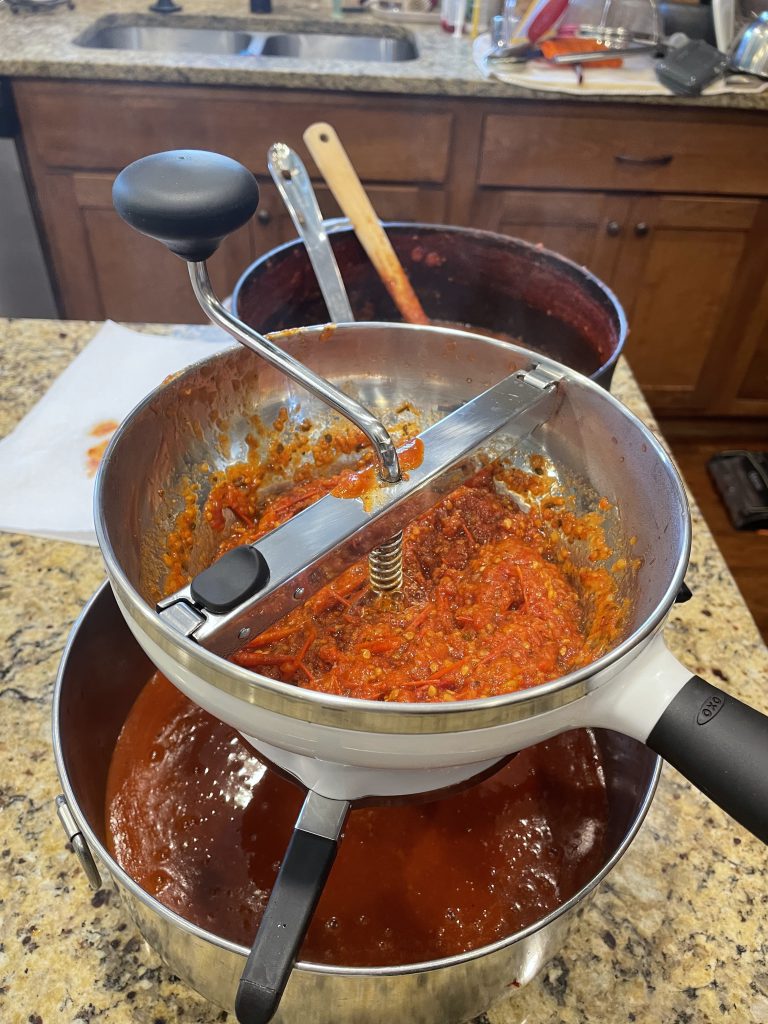 Not only will the food mill take out all the undesirables to make your sauce look beautiful, but if you have a picky eater like me, it also removes any thing that looks like a veggie or spice leaf that would give clues to scare them off.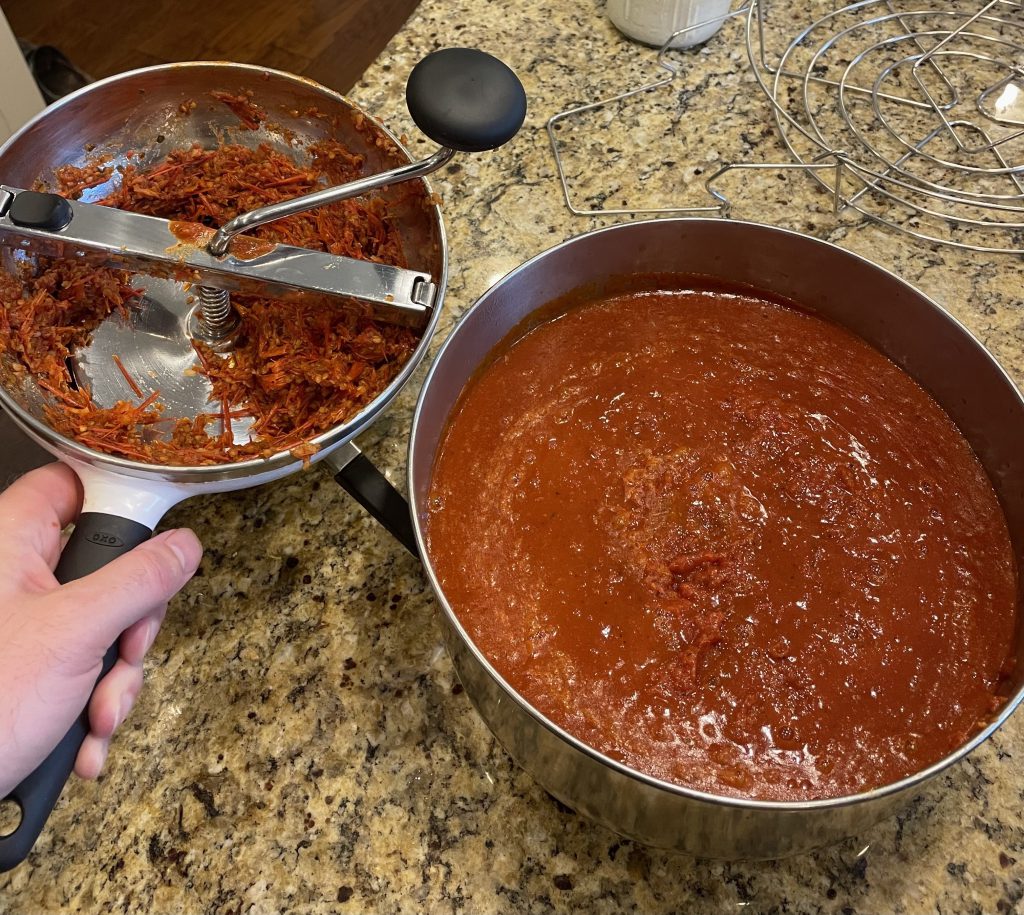 Sorry folks, but if you were looking for a gourmet sauce recipe, you came to the wrong place.  This recipe is tailored to a busy parent of 4 kids wanting to shift their meals closer to fresh and homemade.  My opinion is, the closer we get to the source of our food, the better and healthier. It's a spectrum and we are all on different steps of that journey.
This sauce turns out fantastic, and even our child that doesn't typically like spaghetti, enjoys the flavor.  It also works out great for dipping a sourdough breadstick into. Lately, I do my best to have a fresh batch of garlic butter sourdough breadsticks coming out of the oven when we have some sauce ready.
This sauce is great to freeze or can. I just did a double batch and it gave me 7 pints. I like to reuse my pint Ball jars and pick up a set of fresh lids.  There's always that one jar that doesn't seal properly so that one becomes a dinner for a night that week and the rest go on the shelf to enjoy for up to a year later.   If we're lucky with a good tomato harvest, we can have up to three or four batches of spaghetti sauce stored away for the year.  (Don't worry, we eat plenty of them during the season too. You just can't beat a good BLT on some fresh baked sourdough.)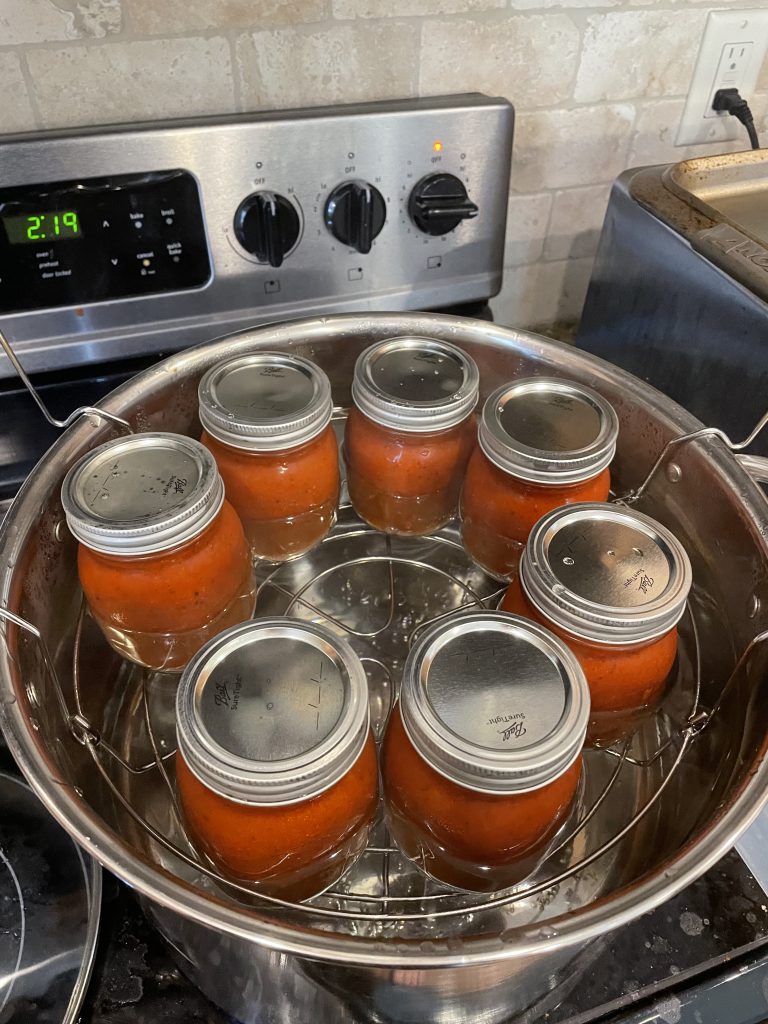 Sure, someday when I have more time, more  garden space, and reasonable kids who want to try new food, I'll slowly replace the Wages mix with more vegetables and herbs from our garden. until then, our whole family of 6 is enjoying spaghetti nights with this recipe and we are closer on the spectrum to made from scratch. Until then I'll be enjoying this sauce even when my tomatoes are gone for the season.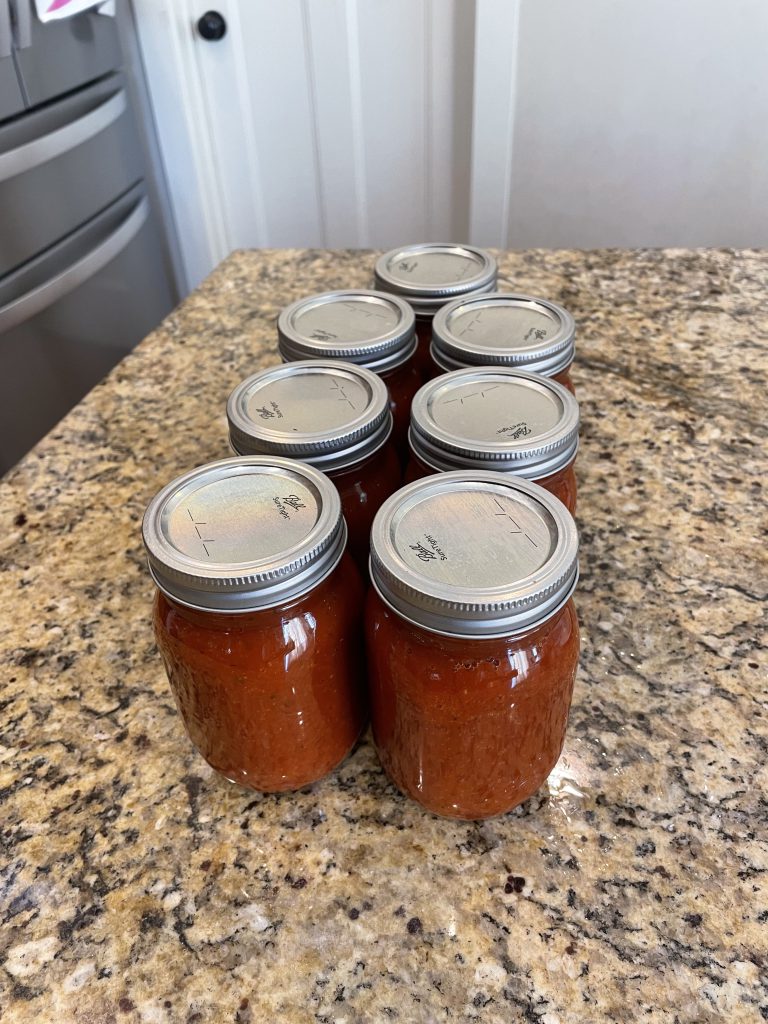 Ingredients:
6 lbs fresh or frozen tomatoes – I pefer to use meaty Roma tomatoes
1/4 cup sugar
Wages spaghetti sauce mix (No worries, no one will judge you!)
3 – 4 Sterilized pint jars with fresh lids if you plan to can.
Instructions:
Wash, remove stems, and slice in half each tomato, removing bad spots as you go.
Simmer fresh Roma tomatoes over medium heat until they break down into a beautiful red liquid. Simmer until the sauce thickens to your preferred consistency, which depends on the juiciness of your tomatoes. Roma tomatoes work best. Make sure to stir so that you don't burn the bottom of you sauce.
Run you sauce through a food mill to remove the seeds and skins, ensuring a smooth texture.
Either can you sauce based on the instructions on the Wages's package, freeze or eat it now. If you have a large family like me then a single batch is probably enough for dinner with a bit left over that you can freeze for some breadsticks next week.